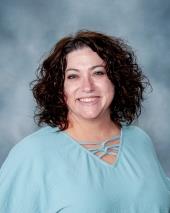 Phone: 678-535-6330
Email:
Degrees and Certifications:
BA in Elementary Education from Ottawa University - Phoenix
Ms.

Dawn Erickson

I was born and raised in Tucson, Arizona. My family and I moved to Georgia in 2003. I LOVE the seasons and the weather in Georgia! There will always be a special place in my heart for the desert. It is great to be here in Cartersville. It truly is a special place.

I have taught 1st grade, 2nd grade and Pre-K. I have 16 years teaching experience. I have been teaching Pre-K since 2008. I spent 7 years teaching Pre-K in Paulding County, and 3 years in Marietta. This is my second year in Cartersville and I couldn't be more excited.

I have two beautiful daughters. My oldest, Maddie, is 19 and working toward an apprenticeship. My youngest, Ella, is 15 and a sophomore in high school. I enjoy crafting and trying something new on pinterest. My new favorite project is refinishing wood. I've refinished my coffee table and am making plans to do my kitchen table and chairs. I love spending time with my family, traveling, reading, coffee, Pinterest, and watching movies.

When I was 5, I would play school all the time. I had five "students" in my class. I would make up work for them to do, pass out stickers and work on behavior. My mother knew then that I would be a teacher. I investigated many things while growing up, but teaching was not one of them. During my sophomore year of college, I had a taste of what teaching was all about. It was then I decided I was going to be a teacher. I graduated from Ottawa University in Phoenix with a BA in Elementary Education.

I love teaching. I love working with my families. I love working with children, watching them grow and challenging them to do more.

I am SUPER excited about getting to know you and your child this year. We are going to learn so much, and may even have a little fun along the way. I am REALLY looking forward to helping your child grow their LOVE for learning.

It is a pleasure to be a partner with you in your child's education.

Instructional content can be accessed via Schoology. Contact the teacher for more information.

We communicate with students and parents (text messages, phone calls, and emails) through Teacher Messaging. Your contact information in PowerSchool must be accurate for you to receive my messages. Please contact the front office to update your information.