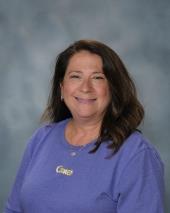 Phone: 770-382-3200
Email:
Degrees and Certifications:
Bachelor of Science-Biology; Minors in Chemistry/Secondary Ed-Berry College Master's in Biology-West Georgia AP Biology Certified Gifted Endorsement Gifted Endorsement
Ms.

Michelle Stone

This school year I will begin my 26th year teaching at CHS. I am teaching Honors Biology and Biology I, and I look forward to teaching your student this year!

My family resides in Cartersville, and my own son is a PURPLE HURRICANE. I am so proud to be a part of the Hurricane Pride and Tradition as a graduate of Cartersville High School along with most of my family. My father was a Purple Hurricane and Drum Major for CHS many years ago before meeting my mom at the University of Georgia. GO DAWGS! It is such an experience to teach the children of my friends and now former students from CHS.

I am so grateful to my former principal, James "Bibby" Morgan, who over 25 years ago, gave me the opportunity to teach at the school that I loved. I am also grateful to all my former teachers who eventually became my colleagues. They loved, supported, challenged, and encouraged me to do my best in academics, track and cross-country, band, and chorus as a student, then mentored me when I returned to teach and coach. Our current administration is doing a phenomenal job this current school year with the challenges public education has never had to face in keeping our students and our staff safe.

While CHS has always had a reputation for rigorous academics competing with some of even the best private schools, we excel in so many other areas at the state and national levels with our outstanding athletic, band, chorus, art, theater, robotic, aeronautic and Work-Based Learning programs. CHS would not have this notable reputation without our parents, community leaders, businesses, teachers, and administrators all working together to make the entire educational experience a priority for all of our students. Our children and young people achieve because of the values that have been instilled in them from an early age. Regardless of trends in education and changes in technology over the years, our teachers maintain high expectations, are extremely hard-working, and know what works best for our students in the classroom. All of these reasons prompted my return to my Alma Mater and I am so proud to be a part of the continuing tradition of excellence at Cartersville High School.

GO CANES!!!

Instructional content can be accessed via Schoology. Contact the teacher for more information. All District and School mass communication with parents and students will be via BlackBoard Messaging. In order for you to receive my texts, calls, and emails, your contact information must be accurate in PowerSchool. Download the app in the App Store or Google Play.