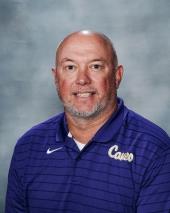 Phone: 770-382-3200
Email:
Degrees and Certifications:
Mr.

Knight

Jeremy Knight

Kennesaw State Universtiy 2017

Cartersville High School 1994

I am from Cartersville and graduated from Cartersville High School. I am married to Kim Knight. I have one son Jud Knight, and two stepchildren who are both educators. Dillon Byrd who teaches at CMS and Ivey Byrd who is currently teaching at CPS. I also have two yellow labs that are family as well. They may get treated better than anyone else. My background has been in the private sector for both construction and sales. I worked for Legacy Turf Farms in sales, management, and logistics. I believe teaching is a calling and we as educators invest in our future by helping to grow and mature our young adults into adults who will make positive contributions to our society. I believe we can reach our youth by teaching and coaching. Coaching is another avenue or platform I use to make a difference in kids' lives. I help coach football, wrestling, and baseball. I love the outdoors, whether it be hunting, fishing, camping, or laking it. I love the adrenaline rush from skydiving, zipling, or any other type activity. I am a dog lover and most of the time you will see me riding around with my yellow labradors in the back of my truck. I love our school and community, and I am thankful and blessed to be a product of both and hope to give back what it has given to me.

"Instructional content can be accessed via Schoology. Contact the teacher for more information.

All District and School mass communication with parents and students will be via BlackBoard Messaging. In order for you to receive my texts, calls, and emails, your contact information must be accurate in PowerSchool."

Download the app in the App Store or Google Play.