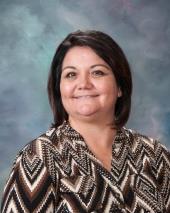 Phone: 678-535-6330
Email:
Degrees and Certifications:
Mrs.

Suzanne Madrid

I was born in Santa Ana, California and have lived in Cartersville for 17 years now.

I am married to a wonderful, supportive, and snake fearing man named Roger. We have three children; Dominique who is 25, engaged to a wonderful young lady, Mattie Frye, and currently working on a bachelor's degree in agriculture, Isaiah who played on a very well known and loved State Champion high school football team and is on his second year of college, and our baby girl Shari who is a very beautiful junior at Cartersville High School.

I am a huge animal lover. I volunteer as a whale spotter when I am home during the summer. I have also helped to protect logger head nest on Wassaw Island during nesting season down in Savannah. I have been known to jump in my car and drive up to six hours because of a unique opportunity to be near an animal. Just this past summer I spent time with my children at Wildlife in Need in Indiana with baby tigers, ligers, wolves, foxes, and bears.

I believe if you enjoy something throw your whole self into it. That being said I am the biggest Walking Dead fan EVER!!!!!! I am the crazy lady that follows the crew during the summer to watch them film.

I am also Tony Gonzalez's biggest fan and loved (I mean LOVED!!!!!!!) when he was playing for the best team, my Falcons (we WILL win a ring).

Needless to say fall is my favorite season.

I was a paraprofessional for GA Pre-K for five years and this is my third year as a lead teacher. I have also been a Sunday school teacher at both Faith United and Crosspoint here in town.

Before starting my destination to spend my days with students I spent many years working for State Farm and Pacific Life Insurance Companies.

Teaching is my passion.