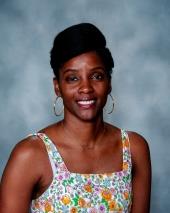 Phone: 770-382-1733
Email:
Degrees and Certifications:
Educational Leadership- TIER 1 SP ED Adapted Curriculum (P-12), SP ED General Curriculum (P- 12), SP ED Language Arts (P-5, 4-8), SP ED Math (P-5, 4-8), SP ED Reading (P-5, 4-8), SP ED Science (P-5, 4-8), SP ED Social Studies (P-5, 4-8) Communication (Journalism), B.A., Mississippi State University. Special Education (Mild/Moderate Disabilities), M.S., Mississippi State University. Educational Leadership (Tier 1), University of West Georgia
Janneakea K. Ball

Welcome to the 2021- 22 school year!

My name is Janneakea Ball, and this year marks my first as a member of the Canes family- for which I am beyond ecstatic about!

I have been teaching special education for the past ten years and I have cherished every moment. This year will bring new challenges and adventures that I am looking forward to sharing with my students and the Purple Hurricane community. My philosophy is simple: "Reach em' to Teach em," which simply embodies the notion that one must be willing to nurture, accept, relate to and mold the whole child before being entrusted, by the student, to reach (teach) him/her.

What I wish for all students who enter my room to remember:

"I am somebody. I was somebody when I came. I will be somebody when I leave. I am

POWERFUL

, and I am

STRONG

. I deserve the education that I get here. I have things to do, people to impress, and places to go!" - Rita Pierson

Instructional content can be accessed via Schoology. Contact the teacher for more information.

We communicate with students and parents (text messages, phone calls, and emails) through Teacher Messaging. Your contact information in PowerSchool must be accurate for you to receive my messages. Please contact the front office to update your information.