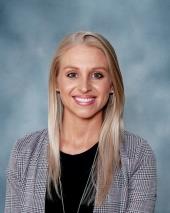 Phone: 7703821733
Email:
Degrees and Certifications:
Bachelor of science degree in Early Childhood Education from the University of West Georgia
Ms.

Shana Cagle

I am so excited to be part of Cartersville Primary School. This is my 9th year teaching 2nd grade. I started teaching at CPS in 2021. This will be my second year with Cartersville City Schools and I could not be more proud to be a PURPLE HURRICANE! I chose to teach in the CCS system because of its reputation for excellence, tradition, and community involvement. As an educator, it is important to me to understand and grow with my students. There is no other community more welcoming than the one I have found in Cartersville. Growing into this community has been like coming home to a place that still feels like a new adventure; familiar and safe but full of opportunity. I have never known an environment more welcoming, more supportive, or better driven toward the future than that of Cartersville.

I have one daughter, Maya (2), who I cannot wait to watch grow up in this community. She is full of life and energy and will build a great legacy alongside her fellow hurricanes to come. In my classroom I believe in a TEAM EFFORT and hold my students to the same expectations. While we are all strong on our own, we are strongest when we work and grow together. My greatest aspiration for your child is that he/she will know their strengths as well as their areas of weakness. Together we will work to grow and improve in both of those areas. I hope to instill confidence in your child as they achieve success and stumble in failure. Yes, I said failure. I encourage students to believe in: trying again, changing a practice, and renewing a mindest. Failure only allows us an opportunity to learn- FAIL-ure = First Attempt In Learning.

I am honored to teach your little ones. I am excited about learning with them. While teaching and learning are both my call to purpose, I believe the greatest delight I could hope to have is watching your children grow and develop the legacies they will leave behind for lifetimes to come.

Canes Vision:Building Legacies - One Student at a Time
Canes Mission: We inspire all students to build the skills and confidence to find their passions and achieve their goals.

Instructional content can be accessed via Schoology. Contact the teacher for more information.

We communicate with students and parents (text messages, phone calls, and emails) through Teacher Messaging. Your contact information in PowerSchool must be accurate for you to receive my messages. Please contact the front office to update your information.