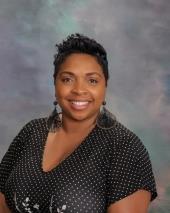 Phone: 770-382-0983
Email:
Degrees and Certifications:
Bachelors Degree: Berry College Masters Degree: Jacksonville State University Education Specialist Degree: Piedmont College ESOL Endorsement
Darya Barnes

Hello! I'm Mrs. Barnes. I am delighted to have your child in my class this year. I am super excited and grateful to be teaching again!

I've been an educator in the Cartersville School System for over a decade . I am certified to teach grades K-5th grade. During my teaching career, I've taught Pre-K, Kindergarten and Second grade. Teaching and "Doing whats best for kids" is my happy place.

A little about me, I completed my college coursework with a Bachelors degree in Elementary Education at Berry College in Rome, GA. During my time at Berry I was the recipient of numerous academic scholarships and I was also a resident assistant. I was so excited about teaching and learning, I continued my education by completing my Masters degree in Education from Jacksonville State University. Later, I secured my Education Specialist degree, also in Education. As you can tell, I love teaching and learning and I continue to work towards learning what I can so it equips me to teach my students.

On the personal side, My father was in the military, so we traveled a lot and I had the most amazing childhood. Living in Berlin Germany as a child and fluently speaking German is the most interesting memory to date. Germany was just one of the many places I've lived (once you get to know me, I'll enlighten you on the rest of my world travels). I consider Atlanta, GA my home, as my parents and grandparents still reside there. I live in the Cartersville area and I am married to the most incredible God-fearing man I know. He loves and leads our family in the most special way. He is incredibly smart, hardworking, dependable,patient and supportive. I love my family with my whole heart. My husband is A.T. Barnes a graduate and student athlete of Georgia Tech and Cartersville High School. We have 3 boys and 1 girl, Jayden 18, Ava 10, and twin boys Titus and Aaron 3. We have full happy, humble, hands and hearts, and we are so very grateful we get to "raise good humans".. We love working out together, hiking, camping, boating on the lake, and bike riding.

I want you to know that I will do my best and at times, go over and beyond, to make a difference in your child's life. My ultimate goal is to support their love for school while inspiring them to become life long learners. WE are a TEAM and I believe that working together is the Key. So glad to meet you, I know this will be the best year yet!

Go Canes!

Instructional content can be accessed via Schoology. Contact the teacher for more information.

We communicate with students and parents through teacher messaging (text messages, phone calls, and emails). Your contact information in Powerschool must be accurate for you to receive messages. Please contact the front office to update your information.