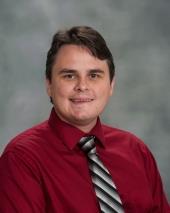 Phone: 770-382-3200 Ext. 3304
Email:
Degrees and Certifications:
A.B. Ancient Greek A.B. Classics A.B. Russian M.A. Classical Languages
Aaron J. Ivey

Salvēte! My name is Aaron Ivey, and I am excited to teach Latin at Cartersville High School. I am a new member of the Cartersville community, but I grew up in Northern Georgia. An alumnus of the University of Georgia, I graduated in 2017 with a master's degree in Classical Languages with a dual emphasis in Latin and Ancient Greek. I also attended UGA as an undergraduate, earning bachelor's degrees in Ancient Greek, Classics, and Russian, respectively. I enjoy working with languages, particularly those of the archaic variety. In addition to Latin, I have studied Ancient Greek, Sanskrit, Old Church Slavic, Old Russian, Old English, and Old Norse. As for modern languages, I have studied Russian and Italian.

This year at CHS, we offer Latin 1, Latin 2, and Latin 3 Honors. The goal of our program is to prepare students to read some of the best works of Latin literature. By the time students finish the program, they will have not only read some of the best literature ever written but will also have a better understanding of Greco-Roman culture and how it resonates even in the modern world.

So, what are you waiting for? Carpe diem!