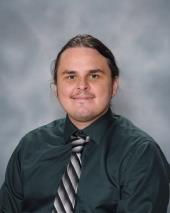 Phone: 770-382-3200 Ext. 3304
Email:
Degrees and Certifications:
2014: A.B. Ancient Greek 2014: A.B. Classics 2014: A.B. Russian 2017: M.A. Classical Languages 2019: AP Latin Certification
Aaron J. Ivey

Salvēte! My name is Aaron J. Ivey, and I am excited to teach Latin at Cartersville High School. This will be my 2nd year in the Cartersville community, but I grew up in northern Georgia. I am an alumnus of the University of Georgia, having graduated in 2017 with a master's degree in Classical Languages (dual emphasis in Latin and Ancient Greek). I also attended UGA as an undergraduate, earning 3 bachelor's degrees in Ancient Greek, Classics, and Russian, respectively. Languages studied include Latin, Ancient Greek, Sanskrit, Russian, Italian, and Old English, among others.

This year at CHS, we offer Latin 1, Latin 2, Latin 2 Honors, and Latin 3 Honors. Next year we will add AP Latin to the curriculum. The goal of the Latin program is to prepare students to read some of greatest works of Latin literature. In so doing, students will develop a better unstanding of the Greco-Roman world and how it continues to resonate in the 21st century. Secondary goals include developing English vocabulary, improving critical thinking skills, improving student writing, and instilling a greater appreciation for language in general.

Whatever students plan to do once they graduate high school, the study of Latin will teach skills that future admissions board members and employers will be seeking from applicants.

So, what are you waiting for? Carpe diem!

Instructional content can be accessed via Schoology. Contact the teacher for more information.

All District and School mass communication with parents and students will be via BlackBoard Messaging. In order for you to receive my texts, calls, and emails, your contact information must be accurate in PowerSchool.

Download the app in the App Store or Google Play.